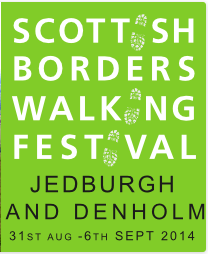 Scottish Borders Walking Festival 2014

The 20th Festival was hosted by
Jedburgh
and
Denholm
in September 2014 (Sunday 31st August to Saturday 6th September). There were walks for all ages and capabilities and evening events to help you unwind at the end of the day.

Jedburgh
, the 'First and Last town' in Scotland is situated on the A68 in the south east of Scotland, just 10 miles from the border with England. It is just over an hour's drive away from Scotland's capital, Edinburgh. The Royal and Ancient Burgh is dominated by a magnificent 12th century Augustinian Abbey, while amenities include free car parking with adjacent comfort stops and free WiFi access. There are restaurants and cafés where you can enjoy morning coffee, lunch, or afternoon tea, or you can just relax in the picturesque market square.

Denholm
is situated on the A698 road from Hawick to Jedburgh and Kelso. It is a quiet village with two pubs, shops, a hairdresser and a garage, all situated around an attractive village green. It is notable as being the birthplace of the famous orientalist, Dr John Leyden, and of more recent times, the start and finish point of the annual 'Hizzy Run' which starts and finishes on Denholm Green, to celebrate the life of motorcycling ace, Steve Hislop, who was born not far from the village.

http://www.borderswalking.com/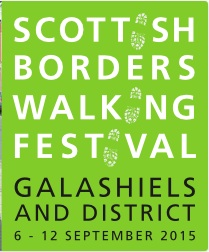 Scottish Borders Walking Festival 2015

The 21st Festival, a week long celebration of walking and the Borders countryside will be hosted by Galashiels from 6
th
to 12
th
September
Galashiels
Galashiels is one of the largest towns in the Scottish Borders with excellent travel and retail facilities but it maintains its rural character, couched below the hills and woodlands of the Gala Water valley.

Galashiels has hidden treasures both within and around the town which you can explore by taking part in the Walking Festival. Really only a village until the late 18th century, the dawn of the industrial revolution and the arrival of the railway transformed Galashiels into a thriving town. The Walking Festival this year coincides with the return of the railway to the region.
http://www.borderswalking.com/